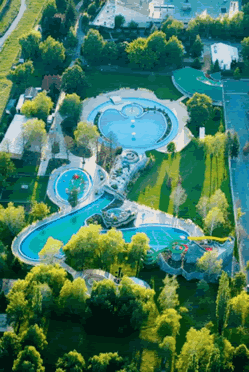 Various fun pools, refreshing sauna world, complex medical and recreational services await both the young and grown-up alike at Kaposvár's Flower Bath. Situated only 50 kilometres from the Lake Balaton, in the neighbourhood of the Zselic woods, the Flower Bath offers the full range of aquatic experiences in Kaposvár, the city of flowers. The children - friendly services, a Kids Den, the refreshing and medical massages are there for the visitor to enjoy. The corridors are fully accessible. Slides , deck chairs and parking are available free of charge.

Covered adventure pools

Paddling pools, bubble bath , adventures pools with slides and sweeping corridor, neck shower , water-air blower with back and waist massage , geyser and bubble bed – you can try them all. The outdoor adventure pool and Jacuzzi (38C)with a sweeping corridor, underwater bubble features, blowers and neck showers offer full recreation for the family even in case of unfavourable weather.

Beach

Kaposvár's adventure bath called "Flower" boasts the biggest full water surface – 2850 m2 – of the region and awaits the visitor with 46 different features. Acces to all these features plus the slides is included int he ticket. Neck shower, cave slide, kamikaze slide, water curtain, sweeping corridor, belt shower , springs anaconda, piranha chamber, cave waterfall and water mushrooms are there to make your time enjoyable. The youngest are awaited by a special paddling pool with a screen . Various outdoor sports fields ( beach volleyball and football), playground and trampoline are available, as well as a number of catering units.

Spa

Three thermal pools with different temperature offer relaxation and regeneration. Their water is thermal water with alkali-chloride and hydrogen-carbonate which contains bromide, iodine and fluoride ions. It can be used for the treatment of locomotor disorders, the aftercare of neurosurgical operations, accident injuries , buti t can be effective for gynaecological treatments as well.

Sauna world

Our sauna world provides stimulatig refreshment – try first the Finnish aromatherapy and light saunas, infra sauna or steam cabin then move on to the treading or plunging pool, or enjoy an invigorating massage! Sauna helps with detoxification, relieves stress, boosts the immune system. Four days a week – from Friday to Monday- a wide range of aromatic sauna infusion programmes are provided by the sauna masters.

Pools

The Flower Bath in Kaposvár boasts two covered pools – the 25-meters pool with a temperature of 27 C is available only for visitors. The 50-metres pool is used only by aquatic athletes – swimmers, synchronized swimmers, water polo players and serves as a venue of national and regional swimming competitions and water polo matches. It is also the swimming centre of the Southern-Transdanubian region, the trainig centre of junior athletes . Both pools are equipped with water circulation system.
Contacts:

Kaposvár, Csik Ferenc sétány 1.

E-mail: info@viragfurdo.hu

Website:http://www.virágfürdő.hu/

Tel.: +36/82-321-044

---
Igal – Thermal Spa


One of the oldest thermal spas of the South Transdanubian region is situated in Igal municipality. It is only 40 km south of Lake Balaton and is a 30-minute drive from the Motorway M7 and from Kaposvár.

In 2016 Igal was the first to receive the qualification of "health resort" in Somogy county, which may guarantee the visitors the medicinal quality of the thermal spa and also an excellent environment, one of th ebest in Hungary. The 81 Celsius medicinal water bursting up from a depth of 651 meters has got an extremly high (10.358 mg/l) dissolved mineral content. It has been considered as one of th ebest spas of Europe for more than 50 years. This fact is proved by the countless recoveries from quasi hopeless diseases or accidents and even from unexpected pregnancies. The spa's 13 pools, free sauna centre, giant slide, playing grounds and several sports fields all intend to satisfy the needs and desires of visitors representing all generations. We regularly organize sauna sessions, aqua-zumba lessons for our dear guests. Our spa offers several social security financed treatments like electrotherapy, medical massage, mud pack or weight bath for a very favourable price. We are expecting visitors all year round with colorful programmes, cultural events and temporary reductions. In our homely spa everyone will find his/her optimal way of relaxation.
Services available at the Igal Thermal Bath: thermal bath, spa and swimming pool, sauna world, different type of massages, weight bath, underwater masssage, parafango mud-cure, little railway, fish pedicure, giant slide,solarium, playground, cosmetics, manicure,bicycle storage, sports field

7275 Igal, Rákóczi tér 30.

Tel.: +3682/573-058

http://www.igal.hu/Gyogyfurdo/Nyitva-tartas-Arak

E-mail: gyogyfurdo@igal.hu